Sunshine Therapeutics- providing Myofascial Release to Dayton and Cincinnati, OH
Using Myofascial Release wellness services and the Voyage to HEAL principles, we are trained to treat the cumulative traumas of everyday habits, the physical traumas of life's sudden events, and the emotional challenges that keep the body in a holding and bracing pattern. All sessions are geared toward developing self-awareness for without awareness there is no cure. We offer one-on-one sessions, group classes, and on-line programs.
BEMER …Bio Electro Magnetic Energy Regulation
Movement is life!  There are so many things that our body is dependent on for movement such as nerve function, hormone function, but circulation function is key! 
Healthy blood flow is directly relevant to how your body can move and operate.  Blood flow is a dynamic process that is intimately involved in our everyday lives, whether we're aware of it or not, and when it's impaired, numerous problems can occur that can have a negative impact on our health. 
BEMER supports muscular health and optimizes performance by stimulating healthy muscles and increasing blood circulation.  BEMER devices use a pulsed electromagnetic field abbreviated as PEMF-to deliver a patented therapeutic signal.
This device is now being offered at Sunshine Therapeutics by Michele Gangwer, CHC/CPT. It can be used in the office or rented for one week by appointment only.  If you would like additional information please call Michele at: 513-218-4115. 
Class Schedule:
Our classes focus on form and using the core muscles to keep everyone safe whether your goal is overall wellness or rehabilitation from an injury, surgery, or illness.
Yoga and Pilates Classes:
Join an intermediate Pilates class on Tuesdays at 12 pm:  The Powers MAT Be.
In Balance Beginner Yoga/Pilates on Wednesday evenings at 6:45 pm
Contact  Michele Gangwer at 513-218-4115 if you would like to attend. 
Voyage to HEAL Weekly classes: We encourage you to follow the weekly blog post and start your personal Voyage to HEAL online or by purchasing the workbook. 
Class prices vary depending on the instructor and class duration. Pre-registration is always appreciated by contacting the instructor or Jocelyn, but not required.
Click here for more information on all of our classes.
Special Events:
Voyage to HEAL Weekend Excursion
Sign up now for a weekend of letting go and transformming into the amazing being you already are! Workshop dates are on
June 2 and 3rd, 2023.
Our special events open pathways for healing physically, emotionally, and spiritually in the supportive energy of a group. All events are non-competitive, not invasive to anyone's personal space or information, and are full of opportunities to deepen your self-awareness and ability to self-heal.
 It is going to be a great year!
Click Here for more information on events
All
Ergonomic Mommy
Good for the Body
Good for the Soul
Healing Interviews
Weekly blog
All
Ergonomic Mommy
Good for the Body
Good for the Soul
Healing Interviews
Weekly blog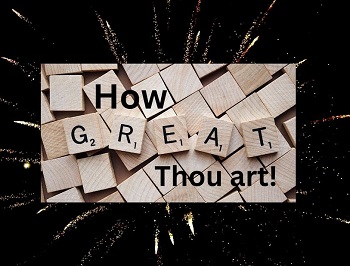 There is no one greater than whom you claim to be. ~ your inner guide I love the song How Great Thou Art. Then sings my soul, my Savior God to Thee, how great thou art, how great thou art! …