Have you ever read a book that is so good you can't put it down and read it over and over again? I have 2 books on that list.
More importantly, do you take the time to sit down and read a book or do you with hold out of guilt that you aren't doing something productive? Let me just tell you that the power of books will make you as productive as giving yourself time to sleep.
When you read, your body gets to slow down and rejuvenate. Your mind gets filled with ideas and creativity begins to flow. You engage both sides of your brain as the left interprets what you are reading and the right side imagines it. I do tend to read a lot of Alan Cohen and Wayne Dyer's self-help and healing books, but I also love to set the logical books aside. I loved the historical fiction Magic Tree House series by Mary Pope Osborne which my kids and I have read more times than I can count. My favorite adult reading is Christian romance stories by Rachel Hauck in which her characters follow God's guidance and listen to their hearts.
I find it so refreshing to hear God so freely considered as an inspirational force in literature. I've worked at places that you were not allowed to say "God bless you." I loved working at the places that I could pray with my clients. When you consider what it takes to heal from anything, the number one ingredient is God. God's love and grace will bring you peace and courage at any moment in time. Ephesians 6:16 says "Above all, taking the shield of faith, wherewith ye shall be able to quench all the fiery darts of the wicked." Ephesians 3:19 brings comfort in the words, "And to know the love of Christ, which passeth knowledge, that ye might be filled with all the fullness of God." In these words, we are safe through our faith. We cannot eliminate God from our healing or the healing of this world.
I've read books where I thought to myself if the main character just took a moment to pray and act in love all would be fine. Unfortunately, the author had the main character struggle and try to overcome whatever challenges they had without the grace and love of God. They eventually reached their goal, but it wasn't pretty or inspiring. We can't do this alone. It is far too hard.
Presently, I am reading the bible on my own for the very first time starting with the New Testament. Reading the bible has never been an uplifting experience for me because I interpreted the words I read from my human mind. Starting with the Old Testament wasn't the best idea either if you do not have a mentor to explain what is going on from a spiritual standpoint.
The first time I read, A Course in Miracles Made Easy by Alan Cohen, I realized that I was far more of a spirit than flesh and bones. Every time I read this book, I came closer and closer to understanding how one with God we all are and how one we are with each other. As I read the actual A Course in Miracles the very first 100 lessons are to get you to detach from the physical world so your mind is clear and open to the presence of God in everything. WOW!!!!!!! 
So as I begin to read the Bible on my own, I am seeing the parallels between what I learn in A Course in Miracles and what I am reading in the New Testament, but the words are far more beautiful and comforting in the bible. Peace and joy overcome me as I read the words of love.
If you ever doubt how incredibly powerful you are, know this. One person gave me A Course in Miracles Made Easy and that completely shifted a huge majority of my life from torment to peace. In that book, I repented. Mind you that repent simply means to change your mind. I decided to find peace rather than frustration. This was a significant part of the development of the Voyage to HEAL as I truly began to see things differently through the eyes of God.
More recently, Pastor Anthony of the church I am attending, Faith Building Church, has interpreted the Bible in a manner that is kind and loving and fully encaptivates me. He has shifted me yet one more huge step closer to completely feeling God's presence and love inside of me which just illuminates every joyous cell in my body. I actually am enjoying reading the bible and going to church! I leave happy and uplifted every time. If that's not a miracle, I don't know what is! So, go grab a book. You never know where it will lead you.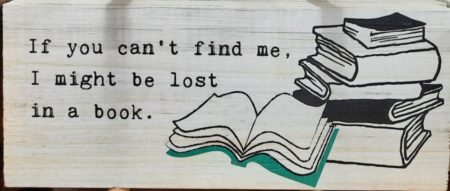 I saw this at a store and thought it was perfect!
Voyage to HEAL Weekly Focus
Stretch:  Let's go for the miracle maker muscles the psoas. This is the muscle that gets tight most often when someone "throws their back out". It connects along the lower spine, cuts through the abdominal region, and inserts on your thigh bone. As I was weeding and trimming grass by hand in hard-to-reach places, I was bent over for a long time. When I went to stand up straight, it took me a bit because my psoas had gotten tight as it supported me in my bent-over position. This can happen if you sit for too long as well and your psoas is already tight.
Option 1: Lay at a diagonal on your bed with the inside knee bent and the leg closest to the edge of the bed hanging off the bed. Hold this stretch until you feel yourself completely soften. 5-10 minutes or more may be needed. You can use your releaser ball with a gentle pressure on the lower abdominal region while doing this stretch.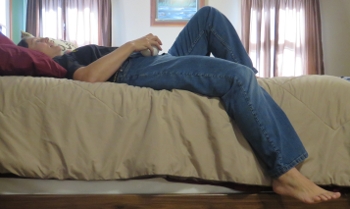 Option 2: Lay with the releaser ball in the lower right or left quadrant of your abdominal region.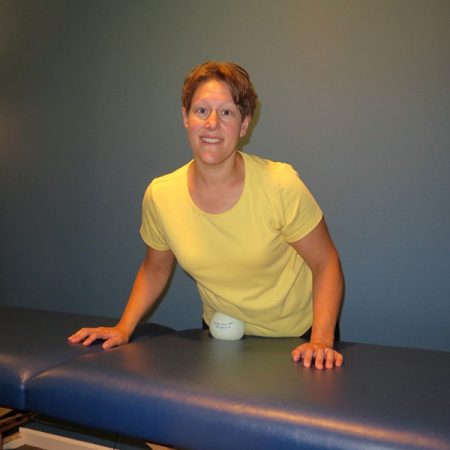 *Make sure you go to the bathroom before doing either of these stretches. If not, you'll soon be getting up to go.   
Exercise: I have been doing a ton of yard work. A friend of mine once said she grimaces every time she reads a house description having a "lovely wooded lot" because she spent so much time and money cleaning up her lovely wooded lot. I so know what she means as I trimmed the 20 + pine trees in my yard and dragged away the branches. All this time, I thought about my pelvic floor and core muscles. So, for this week, wear a new piece of jewelry or put a mark on a finger that reminds you to engage your core when doing any hard work even if that's lifting a laundry basket or grabby a drink of water. Get your pelvic floor and core on! Drink lots, too! It's important to stay hydrated.
Habitual change: Sit down and read! As you sit in your favorite chair, curled up in your favorite position, try curling up in the other direction on the opposite side of the chair. You can shift and stretch your body even while you sit and relax. Isn't life magnificent?
Enlightened Perspective: "Behold, I am the Lord, the God of all flesh. Is anything too hard for me?" ~ Jeremiah 32:27 Say to yourself, "I believe in miracles for they are all around me guiding me to peace and happiness."
Journaling Option: What is your favorite book? What did you figure out about yourself as you read it/ what words of wisdom arose from the pages?
This week's blog post directly correlates with week 12 of the Voyage to HEAL The Meaning of Life. We are all on such an interconnected Voyage to HEAL. May we unite and all feel the peace and love that flows through us from our Lord Jesus Christ. Let peace flow through you and then unto me and out to every heart you touch. Come start your Voyage to HEAL.
Godspeed on your Voyage to HEAL.
Love,
Jocelyn
Please follow and like us: